Biogas Production Systems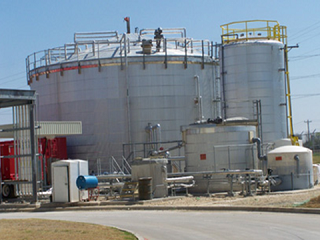 Contact Information
Office Hrs: Mon - Fri:  8am - 5pm (Central)


Call: (936) 856-4515


> Email Us
Biogas Production Systems – Profitable Rapid Payback with HEI 
Efficient HEI biogas plants are designed to generate 1,000-5,000 KW REC. HEI builds biogas facilities for the agricultural industry who can generate a cash flow from the large volumes of animal waste.
The organic content of the manure is anaerobically digested with cultured microbes to produce biogas containing 55-60% methane. The biogas methane is used as fuel in lean burning engines which powers generators producing marketable electricity.
The unique process, when properly controlled, will generate a significant cash flow from the normally problematic disposal of manure.  The source of the odor from manure is a uncontrolled biological degradation of the contained organic mass.
When the organic content is biologically degraded with specific microbes, the organic content is removed and therefore the odor producing ability of the manure is neutralized. The inorganic content (agricultural crop fertilizer) is not removed, leaving the fertilizer,  the valuable part of the manure, to be used on farm crops.
Using our innovative unique patented process, the HEI biogas plant design significantly reduces the capital investment while increasing net production. We have applied industrial wastewater treatment to agricultural waste for methane production efficiency.  Compared to typical "methane pits" our biogas plants can produce up to 90% recoverable capacity, doubling your revenue.
Please contact us for additional data on our efficient biogas production plants.