Skid Mounted Units: Factory Assembled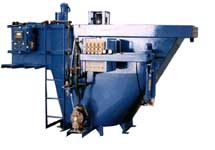 Contact Information
Office Hrs: Mon - Fri:  8am - 5pm (Central)


Call: (936) 856-4515


> Email Us
Skid Mounted Units: Factory Assembled
HEI Wastewater Treatment System (WTS) is a self-contained, automated, chemical conditioning and suspended solids separation system designed to precipitate metals from wastewater solutions for waste disposal and water purification. The HEI WTS unit is designed to process solutions containing either one specific metal or varieties of metals with extreme concentrations.
HEI WTS has been condensed into one fully skid-mounted wastewater treatment system complete with lift station, chemical neutralization, flocculation, liquid solid separation, sludge thickening, sludge compaction and dewatering, and central processing unit which automatically controls the entire process.
The HEI WTS is completely skid mounted and requires only a few hours for complete installation. Engineered to adapt with tight spaces restrictions, the system utilized only 35 to 85 square feet (depending on model size) and processes 5 to 50 gallons per minute proportionally.
Optional equipment any also be included with the HEI WTS for assistance with solutions containing cyanide, alkaline, complex metals, and hexavalent chromium. Other options include pH adjustment and media filters for compliance with extremely tight effluent restrictions.
Waste Minimization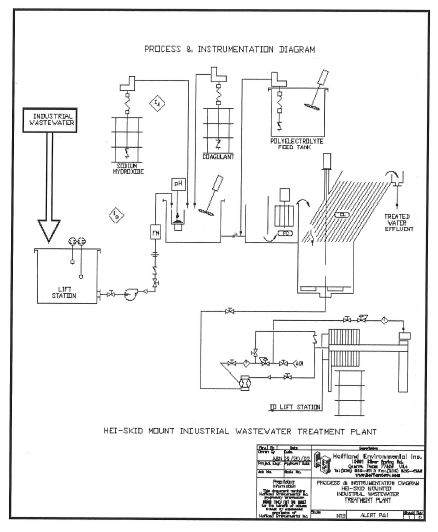 The HEI WTS chemically precipitates wastewater, separating suspended heavy metals from solution and compressing them into dry sludge cakes of 25-30% solids content. This concentration of solids produces dramatic reductions in sludge volume and their associated disposal costs; up to 10 times.
Space Minimization
This self-contained, fully skid-mounted, automated wastewater treatment system utilized only 35 to 85 square feet (depending upon model size) and continuously processes 5 to 50 gallons per minute; proportionally.
Standard Features
Lift Station (included on the Skid)
Chemical Conditioning Section
Flocculation Chamber
Liquid Solid Separation Clarifier
Motorized Rake Bottom Sludge Thickener
Filter Press
Central Processing Unit
Metering Pumps/Probes
Analog Meter pH Controller
1 Year Warranty
Water Reuse
Treated effluents will meet regulatory limits. This luxury provides HEI WTS customers with the option of reusing their processed water with zero discharge or discharging their effluent through conventional drains. Optional multi-media filters may be included for compliance with extreme effluent limitations.
Optional Features
Chelated Metal Precipitation: Additional chemical precipitation agents can be added to destroy strong chelating agent and complexing agents. The micro-colloidal particles are then destabilized and precipitated.
Cyanide Oxidation System
Chromate Reduction System
pH Adjustment System
Effluent Lift Station
Bag Filters
pH Recorder may be installed to continuously monitor pH
Audible Alarm
Max Flow and Dimensions
Model 25: (5 gpm) H = 87 1/8″, W = 59″, L=84″, 35 sq ft.
Model 50: (10 gpm) H = 98″, W = 81 5/8″, L=134 1/4″, 76 sq ft.
Model 100: (20 gpm) H = 115″, W = 83 5/8″, L=146 1/4″, 85 sq ft.
Model 200: (50 gpm) H = 116″, W = 84″, L=160″, __ sq ft.
Utility Requirements:
Air: 90 psig; 30 SCFM, Electricity: 110 VAC; 60 Hertz, 20 KVA, max 30 amps, single phase service, 3-prong grounded plug
Surface Finish: All steel is sandblasted to an SP-10 finish. Interior is coated with two coats of corrosion resistant high build immersion paint. Total thickness – 6 mils. Exterior is coated with high build epoxy paint and finished with one coat of polyurethane epoxy paint; total average thickness – 4 mils.
Fabrication: Steel Plates shall be ASTM A-36 or equal. Steel Flat Bar and Angle shall be 1020 or equal.